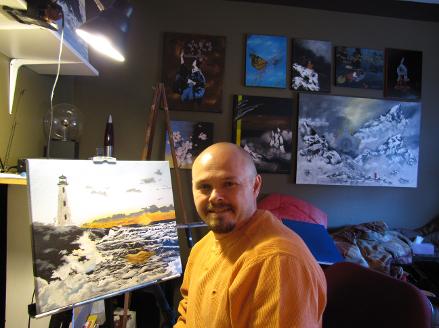 Member of Albany Center Gallery
Member of Saratoga Artists Guild
Tim began painting in 1994.
Growing up he learned to appreciate art at an early age. Entirely self taught, he first learned how to draw and understand lines, shadowing and blending. Then progressed to painting with oils. Learning from artists like Beaupre, Ginzburg, and Christenson. Tim has a background of martial arts, Buddhism, a love for the East, wildlife and Jazz music. So all of this naturally reflects in a lot of his work. His work takes you on a journey in search of your inner self.
Now retired from Law Enforcement, he has decided to dedicate his time to his passion for painting. And sharing that passion with you.
Tim lives in upstate New York with his wife Kate and their three kids.